D'Arbre en Arbre
Specialist in the adventure recreation activities, d'Arbre en Arbre Canada Inc. will assist you in your development projects: Designer and builder of aerial course, suspended path, footbridge, zip line circuit, giant zip line, acrobatic courses in the forest, canopy tour, trails and recreation area. Our team of professionals will be able to meet all your expectations whether it is for a site study, complete construction, inspections and/or maintenance of your structures.
Since 2002, d'Arbre en Arbre Canada Inc. develops a network of licensed parks in Quebec under the "Arbre en Arbre®" banner and in other Canadian provinces under the "TreeGO®" banner. Each park is unique. Safety, quality of facilities, diversity of games, respect of the environment ... Here are four good reasons to live the d'Arbre en Arbre® adventure.
Requirements for a park?
The concept can be implemented on artificial supports (towers, poles, wood or metal) to compensate for the lack of trees on certain grounds as well as inside buildings with sports or recreational vocation.
Services
D'Arbre en Arbre can accompany you in your projects of construction of courses in the trees. See our achievements.
Our services are varied and adaptable to your situation:
Technical studies
Periodic inspections
Maintenance
New construction
Technical assistance
Training
Operation
Critères de construction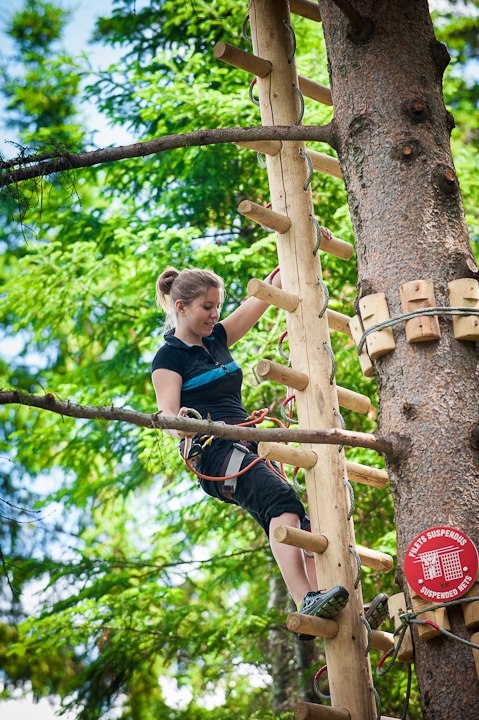 1 to 5 hectares of forest (2.5 to 12 acres)
Flat, hilly or steep terrain near a population basin of 200,000 or close to a popular touristic site
Softwood or hardwood tree species 30 to 40cm minimum diameter
Easy road access to the site
Parking
Possibility of water, electricity on site
Reception area
Be away from residential area